April 20, 2020
TiddlyBlink on Glitch
An "open source" Roam competitor
Anne-Laure Le Cunff posted a really great post recently on setting up TiddlyWiki as a self-hosted and open source Roam competitor:
If you are looking for an open source alternative to Roam Research, TiddlyWiki is your best bet. Because it's self-hosted—meaning you keep your data private—it may seem a bit more daunting to get started. So here is a guide which will take you from complete beginner to completely in love with TiddlyWiki in three steps
I love how thoroughly the post walks you through the basic mental model and then lays out some great user-friendly approaches to setting up TiddlyWiki. In particular - Anne-Laure shows how TiddlyBlink recreates the bi-directional linking power of Roam right inside TiddlyWiki.
Glitch to the rescue!
While Anne-Laure's post walks through how to self-host or set up a local instance easily none of the web options for TiddlyWiki seemed very satisfying so I went fiddling…
I quickly discovered this excellent TiddlyWiki reference project on Glitch from Thomas Elmiger.
So all I did was remix this project - install TiddlyBlink and hey presto it works out of the box!
I've ranted before about the "developer ecosystem" and how almost every coding project starts at the command line so it's no surprise that I really love Glitch1. Really really love Glitch. Point and click easy, combined with easy remixing to learn as you go while not hiding the guts so you can tinker and play.
Until recently installing TiddlyWiki on Glitch would be a good proof of concept but slighly unsatisfying as a permanent long term solution for hosting it - their apps felt more like toys than production code. However…
Glitch just launched monthly pricing so for $8 / month your apps can become stable and always on.
Magic.
Next
Ok - so this was fun. TiddlyWiki with bi-directional links just working out of the box. Next I gotta go working on some styling to see if I can get it to look and feel better - something like Andy's Notes: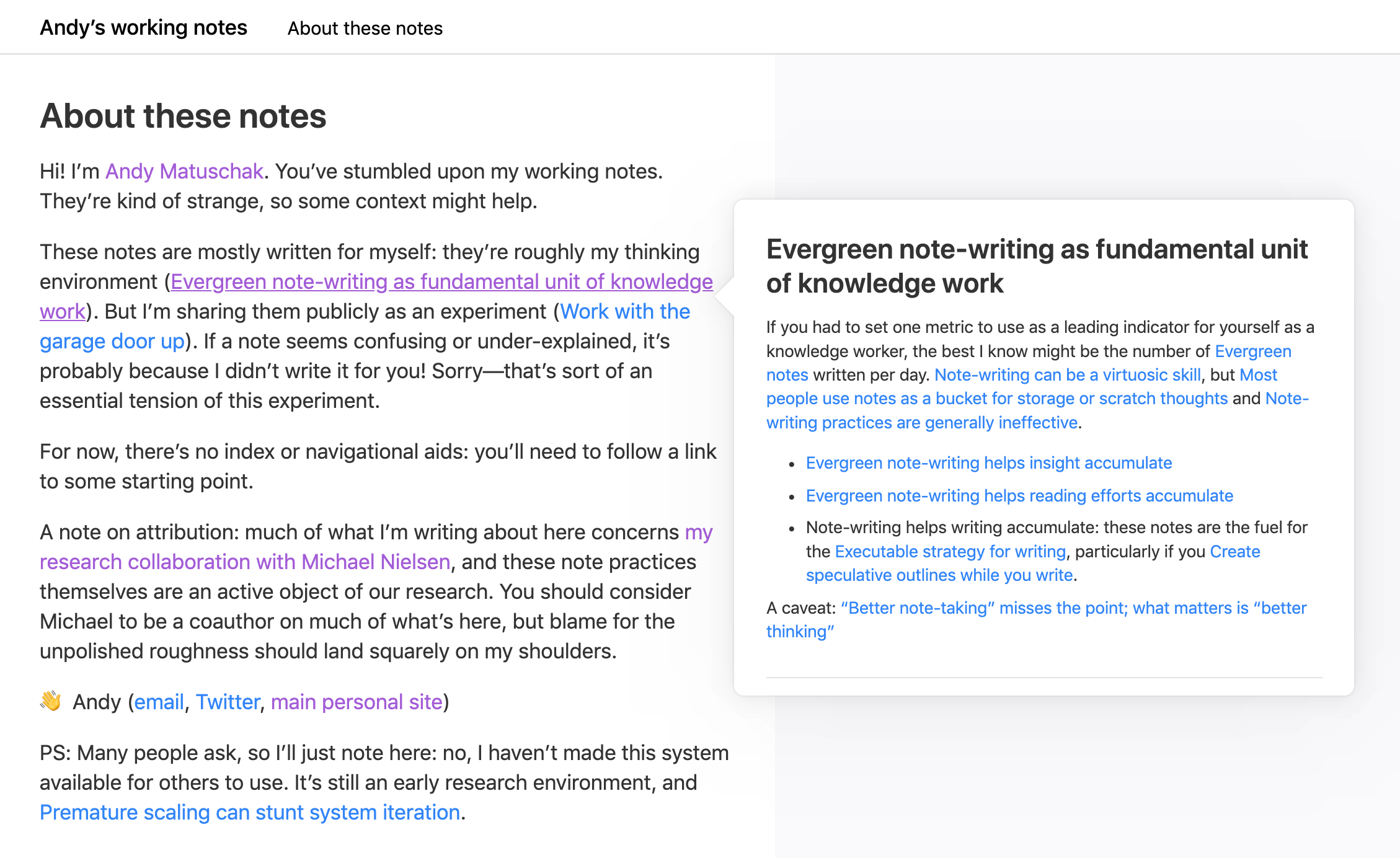 If anyone has ideas or leads or TiddlyWiki themes that can help pretty it up holler at me.
Disclaimer: I did some consulting work for Glitch end of 2019. ↩
---
This blog is written by Tom Critchlow, an independent strategy consultant living and working in Brooklyn, NY. If you like what you read please leave a comment below in the comments or sign up for my
newsletter
.
---